Each of the pastors assist the Senior Pastor, provide spiritual guidance and leadership to fellow church members, support ministries, teach Sunday School, and also preach the Word of God and lead Bible Study when they are called upon.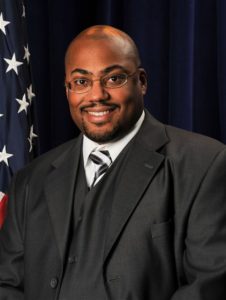 Minister Samuel Rhodes Johnson Jr.
Minister Johnson is a 1997 graduate of the United States Coast Guard Academy. He served 10 years as a commissioned officer in the coast guard before joining the Federal Emergency Management Agency in 2008, where he continues to work as a watch officer in the national watch center. He received his call to ministry in 2002, while stationed in Louisiana. He served in multiple capacities through various churches over the years including: preaching, teaching, Youth, Men's, Dance/drama, and other ministries. In 2008, God led him to join the Accokeek First Church of God (AFCOG). He currently serves as the Youth Minister and the vice-chair of the Board of Trustees. He resides in Waldorf, Maryland with his wife Tamekia, daughter Mia and son Noah. In addition to a Bachelor's of Science in Management from the US coast guard academy, Minister Johnson obtained a Masters in quality systems from the National Graduate School, and a Masters of Arts in National Security Studies from the Center for Homeland Defense and Security at the Naval Postgraduate School in Monterey, California.