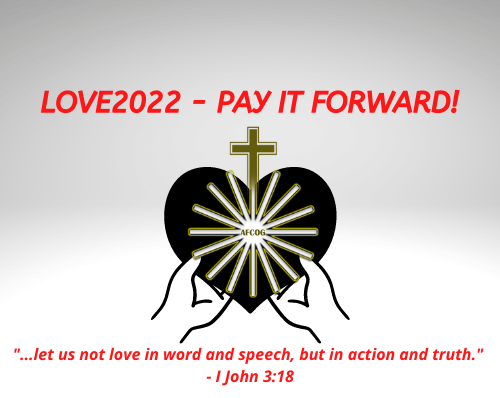 "Love2022…Pay it Forward" is Accokeek First Church of God's theme and mandate for 2022. The idea behind paying it forward is whenever you benefit from a good deed, you let others participate by doing a (random) good deed, instead of repaying the benefactor. However, you don't necessarily have to wait until someone does you a good deed. You can also be the one who starts paying it forward, the one who sets it all in motion.

By "Paying it Forward," you can make quite a significant difference in your community, nation and the world. Not only will you lift the heart of another, but you will also set a chain reaction in motion. "Paying it Forward" to three people, who again pay it forward to three others will impact our entire planet for good.
ETA facilitates kingdom growth and serves as a bridge between member schools and the broader evangelical community. Our unique lay leadership resources equip local churches, Bible Institutes, and academic communities with proven training curriculum.
Be willing to help complete strangers. There may not always be an opportunity to do your family or friends a good deed. But you can always help those who are in need, even if they are complete strangers.
Give freely without expecting anything in return. Some people will ask you how they can reimburse you for your kindness. Introduce these people to the idea of paying it forward. Tell them you don't expect anything in return, but you would greatly appreciate it if they could pay the good deed forward.

Even small acts count. It doesn't matter so much how much you give. All that matters is that you are willing to give and to spread the word.
Look out for the opportunities. Life will provide you with numerous opportunities to pay it forward. You only have to be attentive.
Here're are just a few suggestions of how you can "Pay it Forward":
Do a good deed to a homeless person. There are so many things you can do for a homeless person. Ask them if they want a coffee, a pizza slice, or something from the restaurant they sit next to. Drop them something to eat you've bought in the supermarket. The opportunities are endless.

Pay for someone's coffee. When buying a coffee, you can casually pay the coffee or tea of the person behind you. It's a fantastic way to brighten their mood.
Participate in a cleanup day. Cleanup days are a fantastic way to contribute your part in helping to preserve mother nature.
Donate some of your clothes. Have a look in your closet. If there are many items you haven't worn for years, consider donating some of them.
Run for a good cause. Numerous charity runs (or walks and bicycle rides) are held each year. Sign-up for the next one and participate in raising funds for a good cause.
Ask for donations instead of gifts. Many people wonder how they can do something good without having to spend money. Well, by asking people to donate for a good cause instead of buying you a birthday/Christmas/wedding gift, you can do a good deed without having to spend anything.
Leave a good book behind. Once you've finished reading an excellent book, consider leaving it for someone else to read. No matter if you're in a cafe, train, bus or airplane, leaving a copy of a book behind is a nice way to lighten someone's mood.

Smile at someone. Give someone a smile. You'll see that many people will quickly loosen up and return the smile.
Return lost items. If you've ever found a purse with hundreds of dollars in it, you know how tempting it is to simply take the money and run. But always try to consider how you would feel if you had lost your wallet shortly before buying something expensive. Plus, you really get to make someone's day by being honest and returning whatever is lost.
Become someone's mentor. You can always mentor someone. It's free and there will always be people younger and less experienced than you who could greatly benefit from your knowledge.

Donate blood. By donating your blood, you can potentially help another person to live. What could be more beautiful than doing something that helps someone else to stay alive?
Give some words of encouragement. There are many situations in life where we see the most ludicrous things happen to strangers. Don't be the one who just stops to stare, be the one who helps them to get back up.
Help someone improve their life. Making beneficial changes in your life is all about knowledge. If you've gone through a tough time and if you've found crafty hacks that helped you to overcome the difficulties, consider sharing them with other people. Your advice may greatly help them to overcome the difficulties as well.
Be nice to customer service personal. Treat service personnel kindly and be sure to tell them how much you appreciate their service. It can greatly brighten their mood, especially when they are confronted with ungrateful, harsh and impolite customers all the time.
Pick up garbage. Many people are so careless about nature that they simply throw things away right where they are. By picking up some garbage, you can relieve the burden these ignorant people place on nature.

Carry someone's bags. If you see an elderly person struggling with bags from the grocery store, offer your help.

Give up your seat. Offer your seat to an elderly person or a woman. They will greatly appreciate your good deed.
Let others in the line go in front of you. If you're standing in the line at the supermarket and you see that the person behind you is buying only a couple of things, let them go in front of you.
Say "yes" when someone asks for help with a legitimate need. If someone asks you for help, see if you can help in any way shape or form. You may not always be able to solve the problem, but you can at least help to alleviate its effects.
Make a food donation to your local food bank. Your local food bank needs all the food they can get.